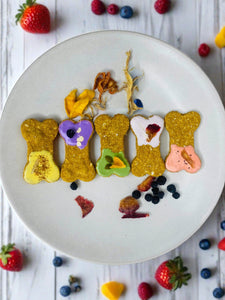 Rustic dog cookie set
Regular price
Sale price
$12.00
---
This delicate dog treats are made with pure ingredients, all decoration is home dehydrated. They offer lots of healthy benefits for your pup. 
The decoration:
Ginger

: can help decrease gas and bloating and other digestive issues. It' also an anti-inflammatory.

Cinnamon

: can help maintain a healthy weight, can also help with arthritis relief.

Blueberries: 

Lots of antioxidants and vitamins.

Oats

: High in fiber, mineral and antioxidants.
Mango

: 

Also high in fiber & vitamins. The sweet and safe flavor will make your dog drool.

Pumpkin seeds: 

Anti-inflammatory, helps with environmental allergies & rich in oils., They are packed with fatty acids to keep you pup skin & coat gorgeous and healthy. 
Carrots

:

 Supports your dogs dental health. This delicious treats are low calorie. Helps canines with bowel movement regularity. they are rich in beta-carotene.

Chai seeds

:

 

Packed with omega fatty acids which helps your dogs immune system, skin & coat, joints, brain & development/ maintenance, also growth. They are rich in fiber, minerals & antioxidants.

Strawberries

:They can help slow down the aging process. Strengthen the immune system, helps with weight management. They can help whiten your pup's teeth.

Coconut

: Boost immune system, promotes healthy skin, fights fungi bacteria, helps digestion and skin & coat, eliminate odors in the breath and cleans their teeth. 
The cookies:
oats, whole wheat, eggs, sweet potatoes, coconut oil & honey.
The icing:
tapioca & coconut oil. 
As you can see there are many reason to feed this delicate dog treats to your dog. The are all careful design to make the perfect balanced dog treat. Five cookies total. Allow three days for confection, and 3-4 days shipping time. I compromise to ship on time. After the package leaves my shop it's up to the mail service to deliver on time. No returns are accepted, if cookies are damage during the traveling process please open a claim ate the postal service. Thanks.